U.S. and International Patents for Evaporator
YORK PA
Alcoil announces the issuance of US Patent No. 9,459,057 and European Patent EP 2 948 725, which relates to an improved and advanced refrigerant evaporator design. The patented technology is used as an air-to-refrigerant heat exchanger to cool air or reject heat in residential, commercial or industrial evaporators and heat pump systems. The innovation includes a built-in refrigerant distributor to provide uniform refrigerant feed to the heat exchanger tubes over a wide range of operating conditions. The primary benefit results in significantly higher evaporator performance, part load operation to 20% load without liquid or oil dropout, and the ability to perform a full range of coil orientations.
Steve Wand, Alcoil President and CEO, said this is a major advancement for the company and the industry. "The patent is extremely significant, employing a refrigerant inlet distributor and microchannel tubes in a way to provide high energy efficiency and operational improvements for air conditioning and refrigeration equipment."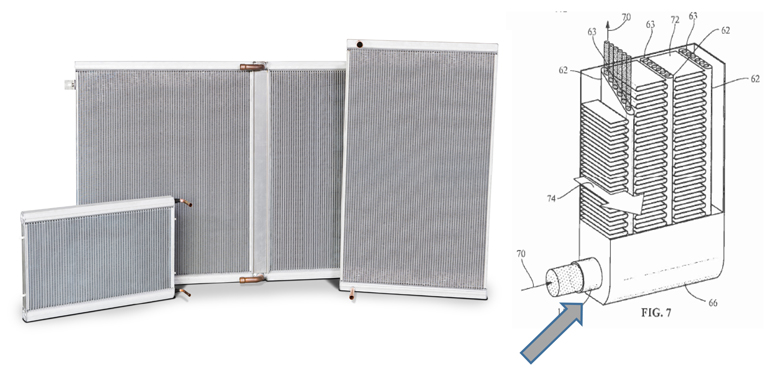 Evaporators, used as cooling coils in air conditioning and refrigeration systems, provide both sensible cooling and dehumidification of the air stream. In order for the evaporator to work properly, refrigerant must enter the lower coil connection and then be evenly distributed across the width of the heat exchanger and then uniformly feed refrigerant to the tubes. The distributor is designed such that the coil will work in any orientation, including vertical, slanted and flat angles (see below).

Wand says that this patent is available for licensing to major HVAC/R OEM's and available to qualified manufacturers of microchannel coils. He states that this patent represents the second of several significant key innovations that Alcoil has introduced to the market for condensers and evaporators.  Alcoil's evaporator patent has also been granted in China and pending other countries.
Alcoil is a leading U.S. manufacturer of all-aluminum MicroChannel heat exchangers for the air conditioning, refrigeration, ventilation, heating and process industries. Application specialties include airside condensers, evaporators, heating/cooling coils, oil coolers and industrial processes.