Patent for Microchannel Coil Technology
YORK PA
Alcoil recently announced the issuance of US Patent No. 8,662,149, which relates to providing higher energy efficiency in air conditioning and refrigeration equipment. The patented technology is used as an air-to-refrigerant heat exchanger to cool air or reject heat in residential, commercial or industrial systems. The innovations include a built-in mini-receiver, vertical tubes and lower pressure drops for improved performance as a condenser or evaporator.
Steve Wand, Alcoil President and CEO, said this is a major advancement for the company. "The patent covers a novel and new innovation, employing MicroChannel tubes in a way to provide higher energy efficiency and operational improvements for air conditioning and refrigeration equipment."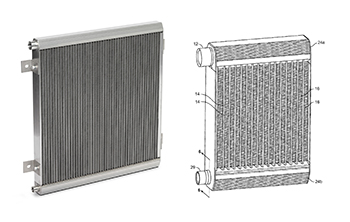 All air conditioning and refrigeration systems must have two heat exchangers as part of its general operation. The two heat exchangers are essential to higher energy efficiency and low cost of operation, and MicroChannel technology provides a substantial improvement over traditional systems.
Wand says this patent represents the first of several significant key innovations that Alcoil is introducing to the market and they are all based around their superior Microchannel heat exchanger design for condensers and evaporators. Alcoil's patent is also pending in China and other countries.
Alcoil is a leading manufacturer of all-aluminum MicroChannel heat exchangers for the air conditioning, refrigeration, ventilation, heating and process industries. Application specialties include airside condensers, evaporators, heating/cooling coils, oil coolers and industrial processes. For more information on Alcoil and its products call 717-347-7500 or visit www.alcoil.net.
Steven Wand
President & CEO
Alcoil, Inc.