MicroChannel™ Coils Have Flexible Sizing for Process Applications
YORK PA
Alcoil Micro-Channel coils offer users of large air conditioning units and process equipment excellent options as condensers for air cooled equipment. They deliver greater efficiency than traditional fin/tube coils, reaching as high as 40% better.
Steve Wand, President and CEO of Alcoil, says their MicroChannel coils are not limited to residential and light commercial equipment only. "These coils are primarily designed to operate best in large air conditioning and industrial process applications. You get your best return on investment with 10 ton systems and larger using single and multiple 10 to 40 ton coils."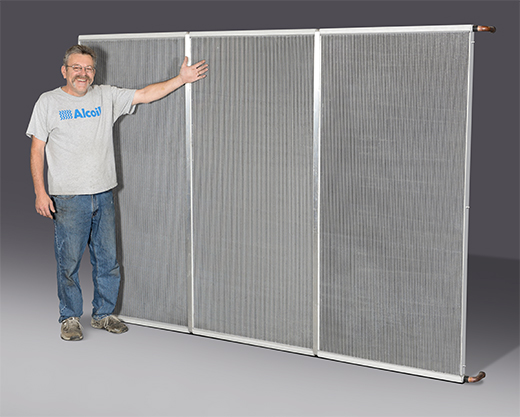 Standard sizes range from 5 tons to 40 tons, and can be used in multiple combinations up to 300 tons in R410a and R134a applications. Alcoil systems have up to a 30% smaller coil face depending upon the design conditions with sizes ranging as tall as 80" and as wide as 120". Alcoil heat exchangers are thinner, lighter weight and take up less space. There are two coil depths that outperform the best 3 row, 4 row and 5 row tradition fin/tube coils, both sizes less than 2" deep!
Besides use in the process industry, Alcoil MicroChannel coils find great application in HVAC/R equipment for condenser applications. With their superior design, lower compressor head pressures are possible to 115°F condensing temperatures with 95°F air temperatures.
Selection software is also available for application design.